Winter Share 1 Bounty:
Green tomatoes
Turnips (and greens)
Onions

Acorn Squash
Kohlrabi
Garlic
Carrots
Peppers
Spicy Greens Mix (brassicas, oriental kale, purple kale)
Collard Greens
Dilled pickles in a glass canning jar

Tomato sauce in a glass canning jar
Meal #1:

(tomatoes, potatoes, turnips, onions, squash, kohlrabi, garlic, carrots)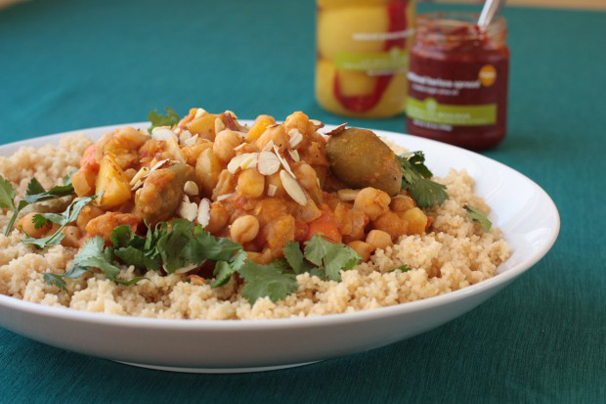 Image from whatwouldcathyeat.com
Slow Cooker Moroccan Chickpea and Vegetable Stew
I used all carrots from share, two small squashes (which I pre-roasted so that I could scoop out the meat), and I added turnips, turnip greens and kohlrabi. I doubled the broth and spices to balance the recipe. When it was all cooked I put it in the Ninja and pulsed it a few times. We served it over whole wheat couscous. Everyone devoured it. Definitely a recipe to make again. Fortunately, we still have leftovers and two more containers that went into the freezer!
2 large carrots, cut into bite-sized pieces (or a big handful of baby carrots)

1 small butternut squash, peeled, seeded and cubed
2 small gold potatoes
(I also added turnips and greens and kohlrabi)
2 cups soaked dried chickpeas (or 1 can chickpeas, drained and rinsed)
14 oz. diced tomatoes with juices
2 c vegetable broth
2 teaspoon cumin
½ teaspoon curry powder
½ teaspoon turmeric
½ teaspoon ginger
1 cinnamon stick
4 large cloves garlic
1 yellow onion diced
½ teaspoon salt
¼ teaspoon pepper
Place carrots, butternut squash, potatoes, chickpeas, and tomatoes in the slow cooker. Add vegetable broth, spices, salt and pepper, and stir to combine. Cover and cook at low heat for 6 hours or until vegetables and beans are tender. Taste and add more salt and pepper and spices if more flavor is desired. Serve over rice or couscous or with flatbread. Sprinkle with cilantro, almonds, and raisins. * Recipe from yummymummykitchen.com
Meal #2

(onion, carrot, garlic, bok choi, tomatoes, mushrooms)
I modified this for the crock pot. We used the entire duck, inerds removed. Put all other ingredients on the bottom of crockpot and placed the duck on top. Cooked for 3 hours on high, checked that inner temperature was 185 degrees Fahrenheit. Then we removed the skin and bones and placed meat in our Kitchen Ninja and pulsed a few times to shred the meat. We used an immersion blender to puree the vegetables and stock. Then combined and served over pasta. Love, love, LOVE this dish!
Image from thepalladiantraveler.com
Bigoli al'anatra (Duck Bigoli)

4 duck legs and thighs, skin removed
4 tablespoons virgin olive oil
1 medium Spanish onion, chopped into 1/4-inch dice
1 medium carrot, peeled and finely chopped
2 cloves garlic, peeled and thinly sliced
1 stalk celery, chopped into 1/4-inch dice (substituted bok choi stems)
8 ounces red wine (Chianti preferred)
1 (28-ounce can) tomatoes, peeled whole
1 cup chicken stock
2 ounce dried porcini mushrooms
Salt and freshly ground black pepper Wash the duck legs and remove all fat. Pat dry. In a heavy-bottomed casserole or Dutch oven, heat the olive oil until smoking. Add the duck legs and cook until brown on all sides and remove, about 10 to 12 minutes. Add the onion, carrot, garlic and celery and cook until softened, about 7 to 9 minutes. Add the wine, tomatoes, chicken stock and dried mushrooms and bring to a boil. Add the duck legs and return to a boil, lower the heat, cover and allow to simmer for 1 hour. Remove the duck legs and allow to cool. Pull all meat off the bones and return to pot, without the bones. Simmer uncovered for 30 minutes, or until quite thick. Season with salt and pepper and set aside. Fill a large pot with 6 quarts water and add 2 tablespoons salt. Cook bigoli until "al dente", about 8 to 9 minutes. Heat the sauce, drain pasta and toss in pan. Toss to coat and serve immediately. * Recipe from Mario Batali
Meal #3

(chard)
Chard and Bacon Pasta
We pan-cooked the bacon until crispy and removed from the pan onto a paper towel. Then we sauteed the chard in the bacon grease. We crumbled the bacon into the chard and served it over pasta. Salt and pepper as needed.
Side #1

(leaf lettuce mix)
Side salad with chia seeds and olive oil and balsamic vinagrette. We shared this at a dinner with friends.
Side #2

(kale)
Baked Kale Chips
(Served with leftovers)
1 head kale, washed and thoroughly dried
2 tablespoons olive oil
Sea salt, for sprinkling
Preheat the oven to 275 degrees F. Remove the ribs from the kale and cut into 1 1/2-inch pieces. Lay on a baking sheet and toss with the olive oil and salt. Bake until crisp, turning the leaves halfway through, about 20 minutes. Serve as finger food. * Recipe from Melissa d'Arabian at foodnetwork.com
Other

(spicy greens, collard greens, cilantro)
Greens - steamed, pureed and frozen (we add to sauces and eggs, etc.)
Cilantro - frozen
Bread
A new endeavor, making homemade bread. It has been wonderful. I found a great recipe and modified it based on the comments. * The whole family has been eating solely this bread for the past two months. Everyone enjoys it. I have forgotten the yeast once and lost count on cups of flour while dealing with a child "emergency," but all other attempts have been perfect. It is great with sandwiches and toast.
100% Whole Wheat Bread
For 1 1/2 lb. bread machine (2 lb.)

1 1/4 cups water (1 2/3 c)
2 tablespoons (7/8 ounce) olive or vegetable oil (2 T + 2 t)
1/4 cup honey or maple syrup (1/3 c)
3 cups (14 ounces) 100% White Whole Wheat or Traditional Whole Wheat Flour (3 1/2 c)
1/4 cup oats (1/3 c)
1/4 cup wheat bran
(1/3 c)
1/4 cup sunflower, sesame or flax seeds, or a combination (I used ground flax)
(1/3 c)

1 tablespoon vital wheat gluten
(1 T + 1 t)

1 1/2 teaspoons salt (2 t)
1/4 cup bakers dry milk (1/3 c)
2 teaspoons instant yeast
Put all of the ingredients into the bread pan in the order listed. Program for basic white bread, and press Start. * Recipe adapted from kingarthurflour.com