We received rhubarb in our first share and also had a large harvest in our own patch. So it has been a baking heavy week. I have chopped and frozen the rest until a later date.
The crumb pie was my favorite. I cannot wait to have it again! I only had two small pie crusts, so I split the filling and topping between the two and it was perfection!!
The hand pies were good, but the crust overwhelms the flavor of the the filling. I had added a pint of strawberries, so I doubled the filling which I then ended up with too much leftover. So we made the kringle crust and used the rhubarb/strawberry/cream cheese filling. That was a much better use of the filling.
image from tasteofhome.com
Strawberry/Rhubarb Crumb Pie Recipe
1 egg
1 cup sugar
2 tablespoons all-purpose flour
1 teaspoon vanilla extract
3/4 pound rhubarb rib, cut into 1/2-inch pieces or sliced frozen rhubarb, (about 3 cups)
1 pint fresh strawberries, halved
1 unbaked pie shell (9 inches)
3/4 cup all-purpose flour
1/2 cup packed brown sugar
1/2 cup quick-cooking or old-fashioned oats
1/2 cup cold butter, cubed
In a large bowl, beat egg. Beat in the sugar, flour and vanilla until well blended. Gently stir in rhubarb and strawberries. Pour into pastry shell. For topping, in a small bowl, combine the flour, brown sugar and oats; cut in butter until crumbly. Sprinkle over fruit. Bake at 400° for 10 minutes. Reduce heat to 350° bake for 35 minutes longer or until crust is golden brown and filling is bubbly. Cool on a wire rack. Yield: 8 servings. Note: If using frozen rhubarb, measure rhubarb while still frozen, then thaw completely. Drain in a colander, but do not press liquid out. * Recipe from tasteofhome.com
Image from smittenkitchen.com
Rhubarb Cream Cheese Hand Pies
3 3/4 cups (470 grams) all-purpose flour
1/2 teaspoon fresh orange zest (optional)
1 1/2 (20 grams) tablespoons granulated sugar
1 1/2 (9 grams) teaspoons table salt
1 1/2 cups (12 ounces or 340 grams) unsalted butter, very cold and cut into small cubes
3/4 to 1 cup buttermilk (or, make your own buttermilk substitute)
1 pound (455 grams) rhubarb stalks, trimmed and cut into 1/2-inch segments
1/3 cup (65 grams) granulated sugar
4 ounces cream cheese, at room temperature (i.e. very soft)
1/3 cup granulated sugar
1 teaspoon lemon zest
2 teaspoons lemon juice
1 large egg yolk
1 large egg
1 tablespoon water
Coarse sugar
Make pie dough: Whisk together flour, zest, sugar and salt in the bottom of a large, wide-ish bowl. Using a pastry blender, two forks, or your fingertips, work the butter into the flour until the biggest pieces of butter are the size of tiny peas. (You'll want to chop your butter into small bits first, unless you're using a very strong pastry blender in which case you can throw the sticks in whole, as I do.) Gently stir in 3/4 cup buttermilk with a rubber spatula, mixing it until a craggy mass forms. Get your hands in the bowl and knead it just two or three times to form a ball. If it doesn't come together, add remaining 1/4 cup buttermilk, 1 tablespoon at a time, until it does, then gently knead again. Divide dough in half. Wrap each half in plastic wrap and flatten a bit, like a disc. Chill in fridge for at least an hour or up to two days or slip plastic-wrapped dough into a freezer bag and freeze for up to 1 to 2 months (longer if you trust your freezer more than I do). To defrost, leave in fridge for 1 day.
Make rhubarb filling: Place rhubarb and sugar in a small-to-medium saucepan with sugar and stir to combine. Cover and cook at medium-low heat for 15 minutes, no need to stir. Increase the heat to medium, remove the lid and cook for another 10 to 15 minutes, until rhubarb is broken down and ideally thick enough that if you run a spoon across the bottom of the pot, you can see a trench quickly form and disappear. (No need to be overly fussy about this level of thickness, as a little wetter won't harm your pies.) Spread mixture on a large plate in the fridge or freezer to cool quickly, then scrape into a bowl. Keep cold until needed; it will be thicker and easier to "scoop" onto the pie bases.
Make cream cheese filling: Whisk cream cheese, sugar, zest, juice and yolk together in a small bowl until smooth. Keep cold until needed as well.
Assemble pies: Heat oven to 400 degrees. Line two to three baking sheets with parchment paper. Beat your remaining egg and 1 tablespoon water and keep aside with a pastry brush.
Flour the heck out of your counter, unwrap the first half of your dough and start rolling your dough by pressing down lightly with the pin and moving it from the center out. You're not going to get it all flat in one roll or even twenty; be patient and it will crack less. Roll it a few times in one direction, lift it up and rotate it a quarter-turn. Continue to do, roll a couple times, lifting the dough and rotating it until the dough is just shy of 1/8-inch thick. Cut dough into 2 3/4-inch to 3-inch squares. (A knife, pizza wheel or even fluted pastry wheel would be sufficient.)
Tip: No mushy pie dough! If your dough becomes soft (it's a hot day or warm kitchen, aka summer) now or at any point in the assembly process, slide the dough squares onto a prepared baking sheet and freeze them for a couple minutes until they're semi-firm again; it will make assembly less frustrating.
Brush half the squares very, very lightly with the egg wash; these will be your bases. Cut a small vent in the other half of the squares; these will be your lids. In the center of each egg washed square, put a small dollop (a measured teaspoon) of cream cheese, then rhubarb filling on top. Be ye not tempted to fill them more as they become almost impossible to seal without leakage, and why should your baking sheet get all the good stuff? Top each filled base with a vented square. Press outer edge of top and bottom all around to seal with your fingertips; a fork will work as well. Transfer pie to a baking sheet, spacing 1-inch apart. Brush the tops with egg wash and sprinkle generously with coarse sugar. Repeat with remaining dough, including second half from fridge, and fillings.
Bake for 15 to 20 minutes, until puffed and golden, and even more brown at edges. Transfer to cooling racks and cool to room temperature before serving. Okay, well, good luck with that. *
Recipe from smittenkitchen.com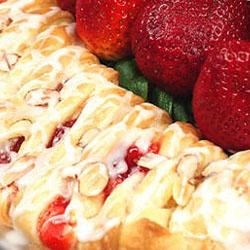 image from allrecipes.com
Danish Kringle
1 cup butter
2 cups sifted all-purpose flour
1 cup sour cream
1 cup butter, softened
2 cups brown sugar
1 1/2 cups chopped English walnuts, divided
1 cup confectioners' sugar
2 tablespoons water
In a large bowl, cut 1 cup butter into flour until crumbly, leaving pea-sized chunks. Stir in sour cream, and mix well; dough will be very sticky. Form dough into a ball. Cover tightly, and refrigerate 8 hours, or overnight. Preheat oven to 375 degrees F (190 degrees C). Lightly grease a baking sheet. Prepare the filling by combining 1 cup butter, brown sugar, and 1 cup chopped walnuts. Divide dough into three equal parts; return two parts to the refrigerator to keep cold. Quickly form 1/3 of the dough into a rectangle, and flour lightly. On a heavily floured surface, roll out to approximately 12x17 inches. Position lengthwise on the work surface. Along the long edges of the dough rectangle, use a sharp knife to cut 4 inch long angled lines about 1/2 inch apart. Spoon 1/3 of the filling along the length of the rectangle's uncut center. Alternating from one side of the dough to the other, fold each 1/2 inch wide strip towards the center, crisscrossing the filling in a braid-like fashion. Lightly press together the ends of the strips to seal. Sprinkle with 1/3 of the remaining walnuts. Repeat with remaining ingredients to form 3 braided danishes. Arrange danishes on prepared baking sheet. Bake for 30 minutes in the preheated oven, or until golden brown. Cool for approximately 30 minutes. While the danishes are cooling, prepare the icing: mix confectioners sugar and water until smooth. Drizzle in fine streams over warm danishes. * Recipe from allrecipes.com