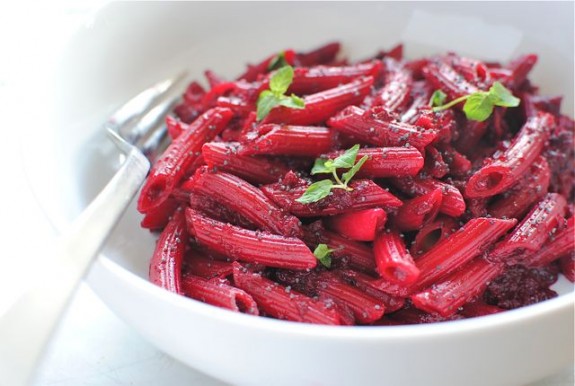 image from bevcooks.com
Life has gotten in the way of regular posting, but this recipe was too delicious not to share. I used 8 frozen beet cubes. We enjoyed this with some homemade burgers. It was delicious!
6 medium-sized beets, cleaned and cut into a small dice

6 Tbs. extra-virgin olive oil, divided
6 sprigs thyme
6 cloves garlic
1/2 Tbs. balsamic vinegar
1 cup freshly grated parmesan cheese, plus more for garnish
1 cup vegetable stock
1/2 cup skim milk
2 tsp. sugar
1 pound pasta
Coarse salt and freshly ground pepper
1 Tbs. poppy seeds
Mint leaves, for garnish

Preheat oven to 400. On a rimmed baking sheet, toss the diced beets with 1 Tbs. oil, thyme sprigs and a good pinch of salt and pepper. Roast for 40 minutes. Check for done-ness at the 30-minute mark. Transfer beets to a food processor. Add the garlic, balsamic vinegar, vermouth, half of the cheese and the 2 remaining Tbs. oil. Pulse until it's as smooth as you can get it. Transfer beet mixture to a small saucepan. Add the stock and cream and bring to a light simmer. Add the sugar, remaining cheese and another pinch of salt. Simmer on medium-low while you prepare the rest of the meal. Taste it. Oh I know. Toast the poppy seeds in a small skillet until fragrant, about 2 minutes. Cook the penne until al dente. Drain and return to skillet. Pour the sauce over the pasta and toss to combine. Look. At. That. Color. Give it one more taste. Season accordingly. Serve pasta garnished with a good sprinkle of the poppy seeds and the mint leaves. And more cheese. Absolutely more cheese.
*Recipe adapted from bevcooks.com.